Hey there!! I realized it's been far too long since I posted any blog tips for my fellow aspiring bloggers, so this post is just for you guys! 😉 I get quite a few comments and questions about link parties when it comes to blogging. So this week I'm going to give you my basic guide to blog link parties to help you decide if they are right for you!
If you have followed my Blog Tips Series way back when then you may remember we talked about how to get more comments and how to grow your readership. Link parties are another way to do both of these, but can also be very time consuming if you are going to do it right. I try to live by the motto, "Work smarter, not harder", so let's take a look at some basics on link parties and how to make the most of them!
WAIT WAIT WAIT! Before you read on, I gotta tell ya.. I'm not the expert here. In fact I've never even hosted a link party on Creatively Southern. I hear you now… "WHAAAA??? Who does she think she is giving us advice??" 🙂 While it is something I'm considering, right now I just participate in link parties by linking up at other sites. See, we bloggers all have some of the same basic goals. We want to share our content, and we want to grow to be one of the best bloggers on the block! We want to be goooood at what we do. And you know what? You are. You've just got to know what to do with your good hard work. And it takes time to know what works for you!
So WHAT is a link party?
Link parties are a way for bloggers (and non-bloggers) to share their content on another blog or website.
WHY should I participate in a link party?
Imagine if you will… You create a blog post. It's some of your best content. It adds value back to the reader, conjures some emotion or response from your reader, and you have some awesome pics to go with it. Eye candy!
You post it. Some of your readers click over, maybe comment. You share it on Facebook and it may or may not reach all your fans. So on and so forth…
Then you link it up to a link party. You get a little bit of traffic from the party, not a lot, but a couple of comments.
Then a week later, the host of that link party really liked your content and featured it on their site with the highlights from the party.
Your traffic goes up because ALL of that blogger's followers just saw your content and want to check it out. It got featured, so it MUST be good! Now you have more people commenting and visiting your site, and you might even gain a new follower or two.
This is the ideal outcome of participating in link parties, but it doesn't happen for everyone. It doesn't even happen very often. But just like the lottery, you got to buy a ticket to win. You have to link up if you want to be featured.
Now, there are a few good rules when linking up to a party. No one likes a party pooper.
Rule #1: Post content that's relevant to that blog.
If your post is about the top 10 designing trends of 2013, you probably won't fit that in too well on the food blog link party. However, if you have a recipe for pumpkin cupcakes that's to die for then go for it… and be sure to send me the link… or a cupcake. 🙂 YUM!
Rule #2: Be social.
You are at a party, remember? Don't show up without your party dress on. Visit at least three or more other links and here's another tip… COMMENT on them!! They just might return the favor. And you might start to make new friends!
Rule #3: Only link your content.
Link parties are not the place to advertise. Don't try to sell anything (except your great  blog content). Don't link up your Etsy shop. Don't link up the giveaway you're doing to get more traffic. We just want you and your awesome content.
Rule #4: Link back to your host.
If you hope to be featured, then give them a shout-out. Link back to their party or site. You can do this by adding their button to the end of your post. You can also do it with a text link back if you don't like the idea of having all those buttons listed at the end of your post. Lastly, you can create a page of links on your blog of all the link parties you participate in.
So how do I find link parties for my content?
There are a ton of link parties. In fact, it can be overwhelming. Which one is right for you? You can find a great list of blog parties at Blog Guidebook that can give you some ideas. I suggest start out by picking 5-6 link parties. I like to link to parties that are hosted by more than one blog. For instance, Work It Wednesday is one link party to 4 different blogs. You can see more about that party by clicking their button below.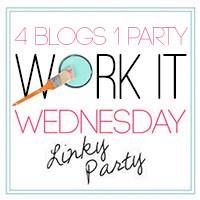 There's a few reasons I only suggest 5 or 6 link parties. One of my pet peeves with link parties is seeing the same post content on every single link party I go to. It kinda becomes not so special if you know what I mean. And too many link ups can actually be bad for your site. You don't want Google to think your spammy. Another reason? Link parties take time. You'll want to link up as soon as you can once the party goes live. Every party usually opens at a certain time on a particular day every week. So do you really want to spend all your time watching the clock from your computer? Yeah, me neither!!!
I also suggest you start small. If you are just starting out blogging and want to get noticed, try linking up to the smaller link parties to start. See how you like it and see what traffic you get. Do it for fun!! No pressure and great chance to make more blog friends!!
A few more tips:
Don't expect a lot of traffic from link parties. If you're goal is truly more traffic, then Pinterest will probably serve you better for that. (That's a post for another day.) Focus on creating great content with clear pictures. (HINT: Pictures of a full room usually don't show up well in thumbnail link party pics) You need something catchy… pin worthy!! This increases your chances of being featured and pinned!! Both good for the blogger's soul. 😉
Link up your best posts and give it a catchy description. Something that says "Fall decor" is not quite attention grabbing as "Fabulous Fall Vignette on a Budget" with a beautiful picture. Oh, sounds great… show me how!!
Turn off word verification. I've mentioned this before in my blog tips, but again… consider turning it off and see if you get more comments. If you're worried about spam, there are ways to work around that without word verification. Just need to decide what is important to you.
And finally, I'm going to give you a list of some link parties that I participate in. Again, these might not be the right ones for you. I don't do them all every week and I don't necessarily link up the same post to all parties. My time is precious and sometimes I miss one… or four. 🙂
And that's my basics of Blog link parties. Now, if you are interested in hosting a party, that's a whole different post. I'm still researching this a little, but I can tell you that it takes even more time to do so, and I'm not sure that it's right for me. I've been considering doing a monthly link party, but what's the point of having a party if no one comes to party with you. 🙂 What do you think? Would you like to see a link party on Creatively Southern? Do you want more information on how to host your own? What are some of your favorite link parties?
Want more blogging tips? Check out the entire series and more here.
Shared At: