HELP! I want to do some home renovation and have no idea where to start!! How do we get the most bang for our buck? Where should I invest my money? What if we decide to move?
These are the very questions readers have asked, so I'm going to share my advice on deciding how and where to start. I promise it's not just flipping coins. We will show you how to win this numbers game.
Our Story
Back in January, we moved into a new house and like any avid home décor/DIY enthusiast I quickly had a long list of home improvement projects for every room in the house. When I say long I mean my list quickly became more like the pages of a book. It was overwhelming. So we had to decide what home renovations to tackle and what to start first. But HOW?
We had just signed for the new house and paid movers to get us there. Money wasn't exactly falling out of our pockets so to speak. It was time to bring the to-do list in line with our purpose for renovating and our financial (and mental!) health first.
What's Your Reasons to Renovate?
Whatever the reason, you've got to decide what's most important. While home renovations can add some value to the home and increase your net worth, it's easy to sink all your funds into a project and get little to no return if you pick the wrong one. Sound intimidating? It should.
If you're in an older home, we recommend hiring a home inspector to evaluate the home. What repairs NEED to be made? You don't want to start ripping up the carpet only to have the heat and air unit sounding like a freight train the very next week. Take care of the big stuff first. It will give youthe greatest return.
If everything in the home is in relatively good condition, then all the updates could just be cosmetic. These kind of improvements are what I call the fun stuff. It's just as important to do your research on the smaller transformations as it is the major home improvements.
The Big "B" Word
I admit that I'm a decorating/DIY addict. My mind is constantly reeling with ideas. Unfortunately our wallets are not reeling with money. So we BUDGET.
Determine how much you can spend on home renovations. Then research the cost of each of your home improvement projects and add 20% to it for contingencies.
Also think about whether you will be doing the work yourself or hiring it out. What is your skill set and even just as important, what is your energy level? Home improvement projects take time and a lot of patience. Factor all of this into your plans and budget.
When you look at the costs realistically, it might help you realize where you can afford to start home renovation. Budget is my first concern because the kids need shoes on their feet and food in their bellies.
Live with It – One day at a time.
So you've saved up. You've worked on your budget. You're ready to rip out the entire room and whoa, wait… stop right there! No matter how much you plan out your home improvement project, there will be complications.
We recommend living in the space for a little while and make sure that your renovations make the space work smarter for you and your family. A Jacuzzi tub might sound fantastic, but would a full tile steam shower be more functional and space saving? (By the way, a steam shower adds more value to your home!)- source.
Okay, so I'll start in the kitchen.
Kitchen renovations can bring up to 75% return to the value of your home and is one of the most commonly used areas of the home. But not everyone has $30,000 to spend on a full kitchen redo. Don't feel like you have to completely rip out all the cabinets and start new. Sometimes just changing out the lighting and a fresh coat of paint can make a world of difference and be most economical for your family.
Photo by Signature Kitchens – Look for farmhouse kitchen pictures Houzz.com
Some minor updates that can bring up to 8% return on the cost of improvement include: installing a new back-splash, upgrading appliances, and installing farmhouse sink. Subway tile is still a popular choice in the kitchen. All of these updates can make big changes for a smaller price.
Or maybe I'll start in the Bathroom.
If you're set on updating your bathrooms, do yourself a favor and start in the master bathroom. Not only will this add more value to your home, but it can add value to your everyday life! Heated floors are becoming more and more popular and can add 4% to your home.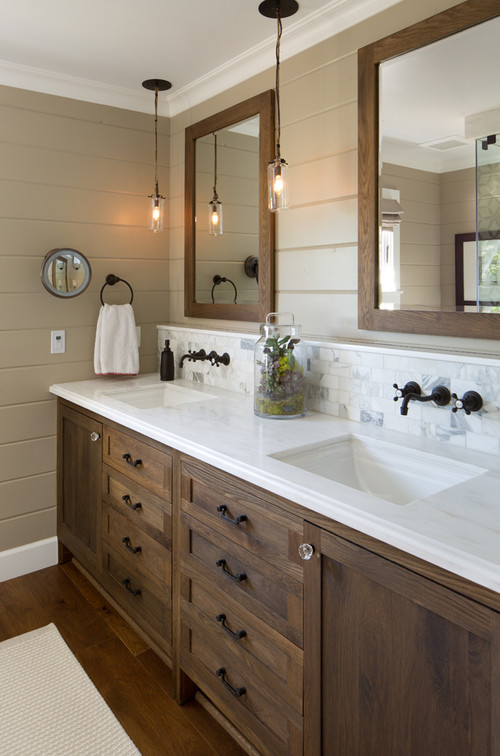 Photo by Anne Sneed Architectural Interiors – Look for farmhouse bathroom design inspiration
Other recommended updates in the bathroom include: installing shaker cabinets, frameless shower, and new countertops. Of course lighting is always a great way to add small updates as well.
What if I can't do the whole room at once?
I like to tackle one room at a time from start to finish. Let me stress that I LIKE to do it this way, but sometimes it's just not practical. Such was the case with our master bathroom. Instead, my decorating ADD kicks in and as it stands we've already started in the kitchen with fresh paint and barn wood molding.
If you're doing small updates then just do what makes sense for you and your budget. Just remember that if you start a major overhaul, then you may be living in a bit of chaos until it's finished. The truth is there is no right or wrong way to start home renovations. It's all in what makes sense for your needs.
What else can I do to update and add value?
You might be surprised at some of the general updates that can add value to your home. We all know installing energy efficient windows not only adds value, but also help decrease costs in the utility bill. Hardwood floors is another popular home upgrade that adds great value and style. Not to mention, it's easy to maintain!
Wouldn't you know that adding pendant lighting to your home can add 5% return on your home? This can be a very affordable upgrade as well. We recommend not going too trendy but choose something that can mix with several styles just in case your taste changes or you decide to sell.
Curb appeal is your home's first impression. That's why adding new siding or updating garage doors can bring up to 87% or more return. The most surprising update to me is replacing the front door!
Photo by Massucco Warner Miller Interior Design – Browse rustic entryway photos
I've been wanting to replace our front door since January. This just gives me an even better excuse to start here! The key to this home improvement is choosing the right one. This is not an area to skimp, as it's not an expensive upgrade. Choose a front entry that adds character to your home and increases efficiency.
The Bottom Line
Deciding where to start home renovations can seem a bit overwhelming at first. Make sure your basic maintenance is taken care of first. Evaluate the payoff of the work you want to do along with the cost and sanity it will take to complete it. 😉 Fresh paint, lighting, flooring, and new fixtures can go a long way in preserving or increasing your home's value at a small cost.
Remember there is no right or wrong way to start. No matter the size of your budget, you can select what features to work on and still get the most bang for your buck. Just don't rush and stick to your plan!
Keep track of your budget and expenses. Make sure you don't get in over your head as home improvement costs can add up quickly. I like the net worth calculator from Personal Capital, as well as their free financial management options to stay on track.
In the coming weeks, I'll be starting a series of posts on home renovation. I'll talk about how to bring vintage style into a small space, how to pick a color scheme, how to choose a contractor, and even more about budgeting for that project! Be sure you sign up for our updates so you don't miss out!
Thanks for visiting and shoot me an email or comment below with some of your biggest challenges in home decorating and renovation. We'd love to host a Q&A for you! Or even send us your photos and we'll share our best recommendations on how to solve your problem. We're here to help!