Hi there! How the heck are ya? It's been a few weeks since my last post. You know, I've said this before but sometimes you just gotta take a  break away and focus on what's important. My daughter recently had a minor accident but broke her arm and it's been a wild ride chasing after a toddler with a broke arm… that's all I'm saying about that. 🙂
So I'm working at getting back into the swing of things around here and I'm going to kick it off with a little laundry room inspiration ideas. If you remember waaaaaay back when I talked about my home goals for this year, making over the laundry room was definitely on the list. I spent some time this weekend looking for some ideas on what I'd like to do with the space we have and here are some of my favs!
Love the backsplash in that one! And who wouldn't love a tv in the laundry room? I might even enjoy doing laundry… just a little bit. 😉
I love the open shelves and baskets in this laundry room. Definitely thinking I may incorporate something like this in our home.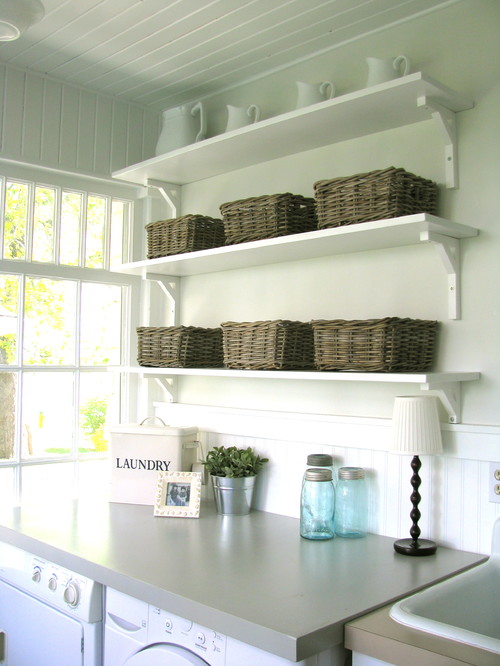 More beadboard and love the light!
Definitely planning to add some hooks in the room to hang clothes. Right now they hang over the washer and dryer and that's just not working out too well.
Love the organization with this idea!
And there's no way I could do a round up of my favorite laundry rooms without including this fabulous room from
View Along The Way
!
So many great ideas and inspiration out there for updating your laundry room! Which one is your favorite?? If you're searching for even more ideas, you can check out my
Laundry Room Inspiration Board
at
Pinterest
! I keep finding more and more to add and can't wait to get started on making over this room. You know I'll keep you updated every step of the way!