Happy Columbus Day!! Hope you had a great weekend! It was rainy and cold here but it also made for a great time to roast marshmallows out by the fire and cook up a yummy batch of heartwarming chili! Since I was tied to inside only projects this weekend, I decided it was time to finish up the Halloween mantel.
This year I wanted to make it a little spooky without being too scary. Everything I used to decorate the mantel were Halloween decorations I already had or things that I shopped the house for and "spookified". 🙂
I found this great little free printable online. They are everywhere on Pinterest right now. And what's Halloween without a few spooky books? I actually found these in a box of books in the attic. JEEPERS!
That's my craaaazy hubs jumping in while I snap some "blog pics"! 🙂
I made the bats by printing a template from my computer and then cutting them out of black poster board. Simple, easy, and inexpensive!
The candle holders I already had around the house along with the pumpkins and the mantel clock. I took another one of our not so scary books and wrapped it in craft paper. I used a pencil to help distress the craft paper and created my own little "Book of Spells".
When I decorated this mantel a few weeks ago for fall, I discovered that I really liked having something at the floor to help tie it all together. So for Halloween, I added some orange lights. I love the glow of the mantel in the evenings with these. So fun!
The banner on the front of the mantel came from Target last year. It worked perfectly for our mantel this year!
And here you have it! My spookified Halloween mantel decorating. I'm working on the front porch now and the rest of the little niches in the house that need a little spooking. Stay with me this week as I'll be sharing more Halloween decorating ideas in between a few other little projects around the house. Will I ever get it all done?! 😉
Linking up at: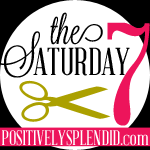 and
Craftberry Bush