Is it too early to start fall decorating?!
Okay, so it was 90 degrees yesterday, but I am so ready for fall that I decided to get a head start with an easy fall wreath! I found my inspiration at an Etsy shop and fell in love with some awesome wreaths. Naturally, when I finally decided on one, this is what I got:
Darn. This item is no longer available.
This is the moment that I
bang my fist on the desk and whine like a baby
 decide it's time for a DIY Fall wreath and here you have it folks. I set out to Hobby Lobby (for like the 10th time in the past 3 weeks) and the fall decorations were just begging me to take them all home. Begging.
So after much self control and about $15 later I was ready to create!
Here was my supplies:
Straw wreath $3.99 (minus 40% off coupon!)
Spanish Moss $2.99 on sale
Ribbon from Hobby Lobby – already had
Various Pumpkins – eh, about $5 total since they were on sale.
Hot glue gun & glue – already had
Spray adhesive (not shown here) – already had
So, before you rush right out to start this let me remind everyone out there that if you haven't worked with Spanish Moss – be prepared – it is M-E-S-S-Y.
much needed glass of wine after all this!
As you can see, it's hard to tell if there is a craft project going on here, or if someone just emptied the lawn clippings onto my dining room table. hmm.
Okay, so moving on. I used the hot glue gun to attach the moss to the wreath, but some places I actually just wrapped it around the wreath form. Whatever works for you as long as it sticks.
Once I got it all covered, I took this baby outside and used some spray adhesive all over to help it stick together and prevent moss from dropping everywhere.
Next, add some pumpkins here and there
The inspiration picture I found used burlap ribbon which I could not find anywhere because it was sold out already. It worked out though since I already had some ribbon that would work it saved me a few more dollars! Cha-Ching!
So let me show you my inspiration picture from Etsy.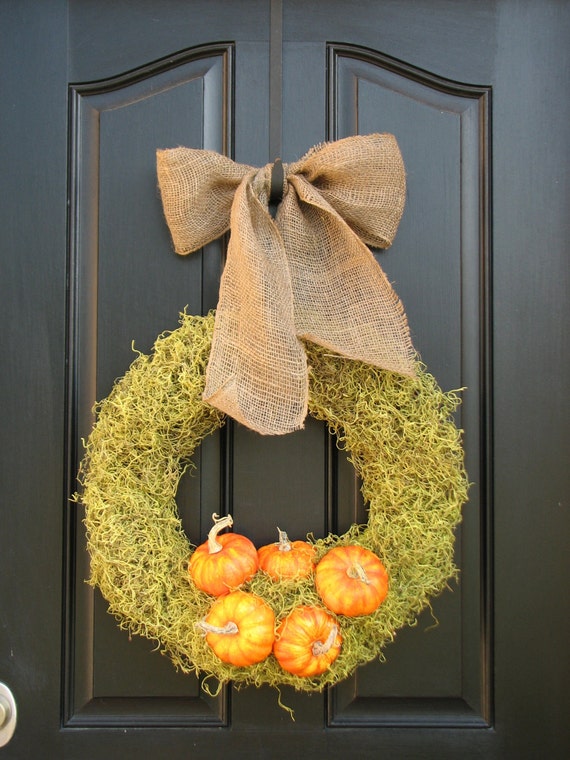 Okay, this beauty like many others were selling on Etsy for $90.00!! That's not a typo.
And even though it was sold out, paying that much for a wreath with my budget would
mean eating PB&J sandwiches for dinner for a month and
 leave me a lot of explaining to do to my sweet hubby. 🙂
Nonetheless, they have even more bea-U-tiful wreaths at this store that I am swooning over with hydrangeas which are my absolute favorite flower.
Ok, so this is my version of that same wreath for $15!! (doing my happy dance!)
I totally feel like I've posted a dozen pictures of my front door in the past week, but I have fall fever and this was at the top of my list to get started on. It's a great transition wreath as we wind down the end of summer!
How about it? What do you think? Do you have fall fever yet? I haven't really looked around closely yet, but I believe we might be only the second house in the neighborhood to have a fall inspired wreath on the door yet. And you know what? I'm okay with that. 😉
Linked up at:
Simple Home Life